Description
C60 Synergy Restorative Antioxidant Cream

It's possible to stop damage to the skin by protecting the layers of dead skin cells. C60 Synergy Cream features a unique combination of antioxidants to prevent inflammation of the skin caused by exposure of healthy intact skin to damage caused by abrasion, sunlight and toxic materials.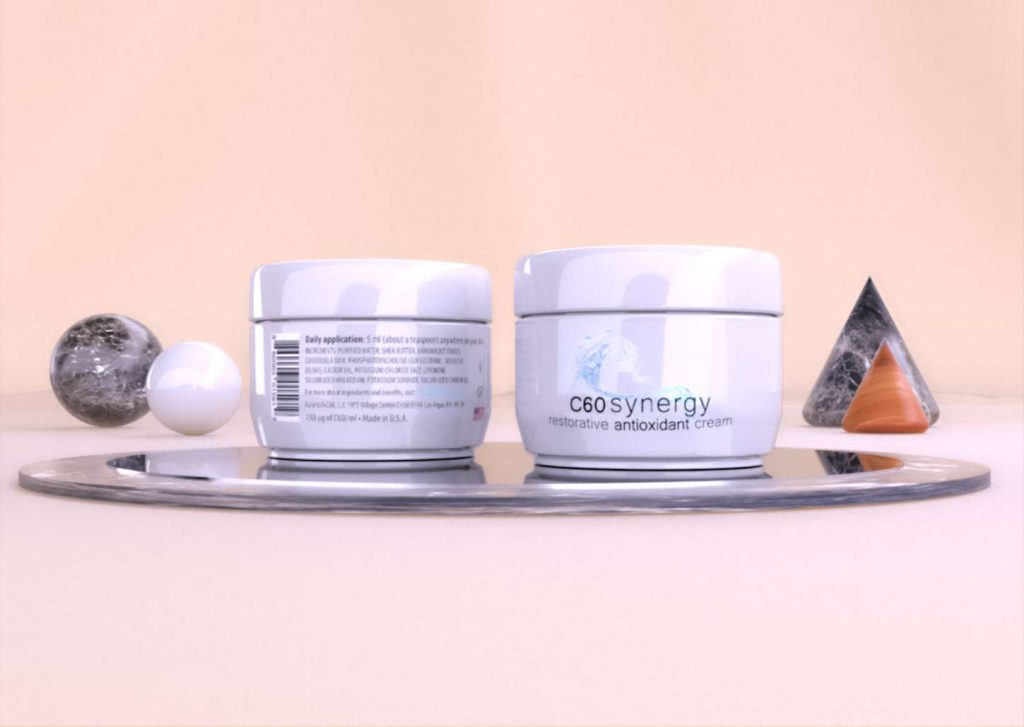 ADVANCED ANTIOXIDANT CREAM – Our C60 Synergy Antioxidant Cream includes a blend of antioxidants to support skin health and cell renewal. Carbon 60, Limonene and Melatonin are designed to work in harmony to maintain healthy skin and reduce the signs of skin distress.
GREAT MOISTURIZER – The non-greasy formula delivers deep hydration to your skin. Nourish, repair & renew epidermis, restore natural water balance.
BEST NATURAL SKINCARE – Only pure ingredients, beneficial for all skin types. Gluten-free, vegan and not tested on animals.
THOUGHTFUL CUSTOMER SERVICE – FullerLifeC60 provides you with the highest quality antioxidant products. If you have any questions – contact us, and we will serve you with respect, kindness and appreciation.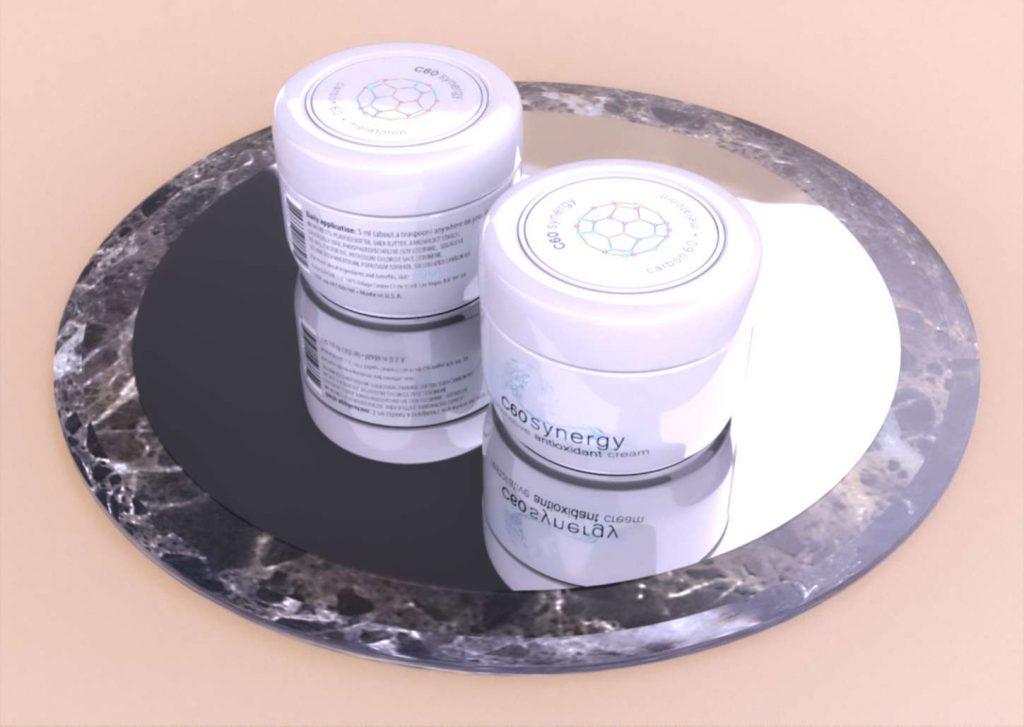 Let's go through the ingredients in the cream and explain what they do:
• Purified water: Water is a good solvent for the ingredients in the cream.
• Arrowroot starch: Is a fine, white food grade starch that makes the cream creamier!
• Shea butter: Is a fine white fat from the shea bean, similar to cocoa butter in consistency. It is a soft solid at room temperature, making it especially good at protecting skin cells. It gives the cream a soft, silky but not greasy feel.
• Squalene: Is a fine, clear oil derived from olive oil. It is a liquid at room temperature and adds a softness to the fats and waxes to create a soft, pliable, water repellent mixture that is very good at holding skin cells together.
• Phosphatidylcholine: Is a component of soy lecithin. It is a good emulsifier and an excellent moisture barrier. It is taken as a dietary supplement to provide choline, which is the molecule involved in transferring signals across synapses between nerve cells. It is very important for brain health.
• Castor oil: Is a fine, clear oil pressed from castor beans. It has been found to be gentle and beneficial to hair and skin.
• Limonene: Is a component of orange oil. It is taken as a dietary supplement as an antioxidant and anti-inflammatory.
• Candelilla: wax is a fine, hard wax derived from the leaves of a small bush. It is a solid at room temperature and when combined with the squalene and shea butter it creates a moisture barrier that is soft and pliable yet tough.
• Potassium: chloride salt is a good source of potassium that is needed for healthy skin.
• Melatonin: is a good antioxidant. The level is not high enough to make you sleepy!
• Potassium: sorbate is in the cream to prevent yeast and bacterial growth. It is a natural component in berries.
• Last is our patent pending fully solubilized Carbon 60.: It is a powerful antioxidant. Antioxidants reduce and prevent inflammation of the skin. It's last but not least as an important ingredient in our cream. It only takes a tiny amount to be effective.
Notice when you rub our cream into your skin it absorbs quickly with no greasy feel. Try our cream on any trouble spot on your body. Apply it once or several times a day. Keep it out of your eyes.
It's likely that you already know, Carbon 60 is listed last for good purpose. Its tiny cell size works in many unique ways to restore and revitalize skin cells.
When you apply C60 Synergy you may feel a healthy difference from most other lotions and creams. Apply an additional amount for trouble spots throughout the day, and before you sleep at night. Avoid direct contact with your eyes.
The FDA doesn't permit us to tell you that our cream prevents, treats or cures any condition or disease. You can hear it direct from our loyal customers, friends and family who report benefits ranging from reduced inflammation, reduced pain, elimination of itching, dry skin, dark spots, sunburn, poison ivy and the restoration towards a more youthful and healthy looking skin.
INGREDIENTS: PURIFIED WATER, SHEA BUTTER, ARROWROOT STARCH, PHOSPHATIDYLCHOLINE (SOY), CANDELILLA WAX, SQUALENE (OLIVE), CASTOR OIL, LIMONENE, POTASSIUM CHLORIDE SALT, MELATONIN, POTASSIUM SORBATE, FULLY SOLUBILIZED CARBON 60
150 µg of C60/ml


Sizes: 1.7 fl. (50 ml.) & 3.5 oz. (100 ml.)